ABU DHABI BRANCH
Abu Dhabi Island, Al Salam Street Behind Abu Dhabi Municipality And FAB Bank Heirs. Of Ibrahim G. Sultan Al Suwaidi Building ONLINE FURNITURE – Showroom no. S2 Abu Dhabi
DUBAI BRANCH
Risala Furniture LLC 9 24 A street, Al Quoz 1 Dubai – United Arab Emirates
Wallpaper Installation Services in Abu Dhabi
Wallpaper can provide intriguing patterns, textures, and flair to your home, as we all know. As a result, we provide professional wallpaper installation services. You can truly show off your personality with wallpaper, which has more alternatives than a simple coat of paint.
Wallpapering a space with beautiful and sophisticated designs is a simple and creative way to remodel it entirely. Thanks to improved strategies and application techniques, wallpaper projects are more accessible than ever. Every area has a pattern, from traditional wallpaper to fabric and vinyl wallcoverings.
DIY Wallpaper Installation's Difficulties
Many people try their hand at installing wallpaper themselves. They don't expect it to be as tricky because they don't know what they'll need.
Measure the walls precisely.

Make sure you order enough wallpaper.

Prepare the walls for painting.

Cut the paper with care and accuracy.

Correctly apply the sticky side.

Carefully apply the wallpaper on the wall, ensuring the appearance is smooth and consistent throughout.
Finding the Ideal Wallpaper for You
Wallpaper installation services are helpful for a lot more than just classic wallpapers. Alternative textures and wallpaper are popular this year, ranging from thick sensory textiles to smooth metallics, so you may choose the appropriate pattern for your space while knowing it will be professionally placed.
Our extra wallpaper installation services, such as vinyl wallpaper, are popular among homeowners (including solid sheet vinyl, vinyl-coated fabric, and vinyl-coated paper).
Wallpaper that is not woven.

Wallpaper from Easy-Walls.

Wallpaper with grasscloth.
The advantages of installing wallpaper in your home include
Surprising Longevity
Many individuals believe that wallpaper is easily ripped. However, vinyl is used in today's wallpaper, making it more durable than before. You may need to clean the wallpaper in some circumstances, although high-quality materials like vinyl are simple to clean. This wallpaper is ideal for sprucing up messe-prone sections of the house, such as the kitchen. Of course, wallpaper isn't impenetrable, but a high-quality vinyl roll won't scratch or peel as easily.
Wallpaper that pulls and stays
There are numerous elements to consider while planning your first wallpaper creation. Wallpaper installation can be a tedious and time-consuming task. Fortunately, peel-and-stick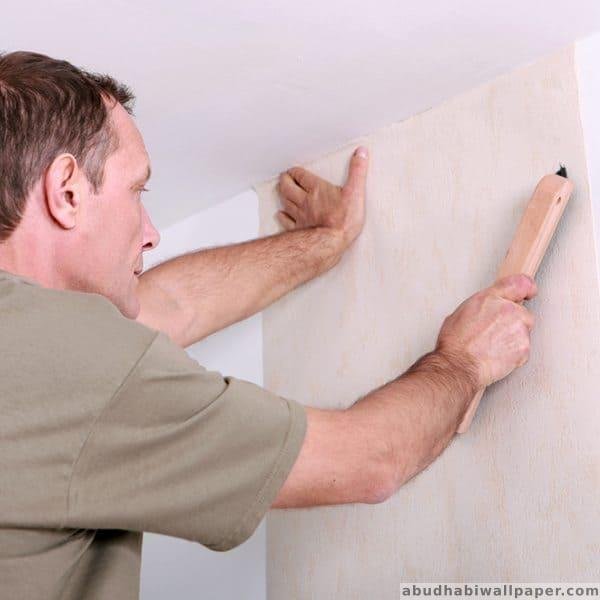 versions are available, allowing you to take advantage of the fantastic designs of this décor without detracting from the overall elegance of the project. Furthermore, this design style makes wallpaper more accessible, removing a time-consuming installation process to bring your new living area to life. One of the most appealing reasons for considering wallpaper installation in a new house is the availability of peel and stick solutions.
Deformations are concealed.
Paint and wall coverings both help to hide flaws in your drywall. On the other hand, wallpaper does a better job in this area. No matter how thick or flat the paint is applied, the bumps and bruises on your walls will show through. On the other hand, wallpaper covers the wall.
Why choose us?
Abu Dhabi Wallpaper provides wallpaper installation and removal services, ensuring that all components of the refurbishment are coordinated for a speedy and flawless experience. Our skilled wallpaper installers consistently produce excellent results, so you can rest assured that your ideas and designs are in good hands.